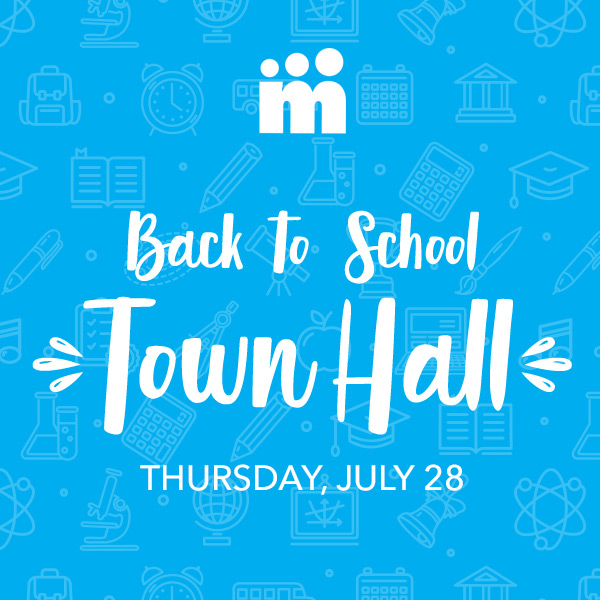 Return to School Town Hall Meeting
Please join school staff as we kick off the 2022-2023 school year.  During this virtual Town Hall, we will be sharing updates and information on renewal, our Reading Program, Explorer Expectations and more!  This session will be recorded and shared with all TMS families and staff.
Submit questions before Wednesday, July 27.
Open House Details
Open House/ Meet the Teacher is Monday, August 1st (3-7pm) or Tuesday, August 2nd (12-4pm). This event is a great opportunity for you to meet your child's teacher(s), tour the school, and visit stations and booths dedicated to uniforms, PTO, lunch, and after school programming.  Families will be able to sign up for a 20-minute time slot to visit their student's classroom teacher on one of the days.  The sign-up link will be sent out by teachers the week of July 25th.
Kindergarten Staggered Start Dates
We are excited, once again, to incorporate a staggered start for our Kindergarten students for the 2022-2023 school year.  Half of our K students will start on Thursday, August 2 and the other half will start on Friday, August 3. ALL K students will resume their daily schedules on Monday, August 6. This staggering allows students to ease into their classrooms, new classmates, teachers, and learning routines at a nice pace.
Thursday, August 4: K students with LAST NAME beginning with

A – L

attend

Friday, August 5: K students with LAST NAME beginning with

M – Y

attend

Monday, August 8:  ALL K students attend
Helpful Documents
Open House Passport (

coming soon!

)

The Parent-Student Handbook

: This essential document describes in detail school policies, procedures, and programs.

Once you have reviewed the handbook with your student please sign and return the last page to the homeroom teacher by Friday, August 26th. 

(

coming soon!

)

Check out the Arrival/Dismissal Plan

: Please take a close look and be sure to follow the designated staggered times for pick-up.  Remember, middle school dismissal is at 3:15 pm.

(

coming soon!

)

Communication Plan

(

coming soon!

)

Review our plan for Explorer Days (virtual learning) during the 2022-2023 school year

Staff Contact List:

Want to know who to contact for various questions?  This list provides names and email addresses of numerous support staff members and administrators ready and available to answer your questions.
Summer Packets & Supply Lists
NOTE: If you ordered School Kidz Supply Kits from PTO in April, your student's supplies will be waiting for them in their classroom. If you did NOT order a supply kit, click here for grade level supply lists. Consider shopping with Amazon Smile, and a donation will be made to TMS PTO.
Kindergarten
1st Grade
2nd Grade
3rd Grade
4th Grade
Supplies for STEM
Please consider sending in a few extra supplies to support our STEM program. Thank you!
Kindergarten- Glue sticks

1st Grade- box of colored pencils

2nd Grade- box of #2 pencils

3rd Grade- roll of Masking Tape

4th Grade- Cleaning Wipes

5th Grade- pack of index cards or post-it notes

6th Grade- Paper Towel Roll

7th Grade- Roll of Duct Tape

8th Grade- pack of double AA batteries (4 batteries per pack)
Popsicles in the Park: Sunday, July 17th
Meet your new classmates and a few teachers at Willis Park. Meet Principal Stewart, PTO board, and parent reps for all grades. Used Uniforms will be for sale (cash/credit) as well as popsicles and select TMS Spirit Gear.
Be sure to follow TMS PTO on Facebook, and be sure to opt in for the PTO Newsletter.
Parent Resources
Check out the new Parents' Toolkit for links to the uniform policy, after school care, school lunch, and more.
Stay Informed
Consider signing up for text messages from Principal Kelbaugh through Remind101 for notices on last-minute school closings and other emergency notices. See page 2 of the communication plan or text @tmsparents to (404) 445-2567. You can opt-out of messages at anytime by replying, 'unsubscribe @tmsparents.
Additional news, resources and reminders are often shared via social media.