Well over 700 attended Fall Fest this year, nearly double the number of expected attendees! Thank you to our planning committee, room parents, and countless volunteers who worked hard to produce the annual carnival. Photo booth photos are available here for free download courtesy of Tiffany Powell Photography, you can view some candid photos of the night on TMS PTO's Facebook page.
This year's Fall Fest was generously supported by our friends at Thrive Homes, Pallookaville Fine Foods, and Icing Cake Design. Because of their support and unprecedented attendance, TMS PTO earned over $4,100. WOW. See below for a breakdown of costs and donations: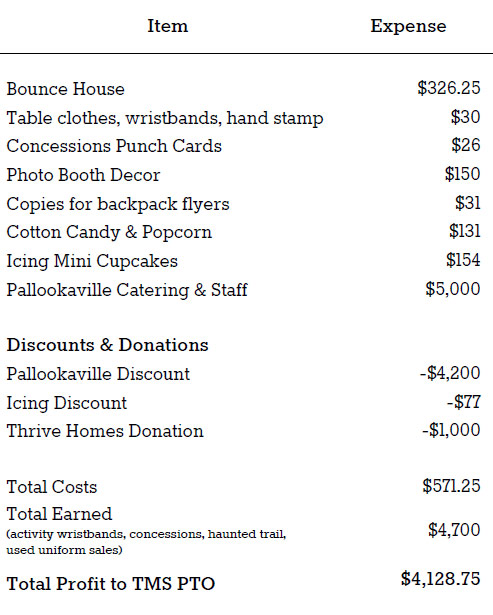 Where does this money go?
$300 was earned for entrance to the Haunted Trail. Middle School will use these funds to build their new Octoball Court. The remaining $3,800 will be used by TMS PTO to fund teacher mini grants and other curricular enhancements.
Thank you to all who attended Fall Fest in support of our teachers, students and school community.