TMS is organizing another school-wide "On the Same Page" program like we did in conjunction with Little Shop of Stories in the fall.  Our themes this winter and spring are kindness and diversity.
Each Kindness by Jacqueline Woodson
Kindergarten through second grade selection

This unforgettable book is written and illustrated by the award-winning team that created The Other Side and the Caldecott Honor winner Coming On Home Soon. With its powerful anti-bullying message and striking art, it will resonate with readers long after they've put it down.
Chloe and her friends won't play with the new girl, Maya. Every time Maya tries to join Chloe and her friends, they reject her. Eventually Maya stops coming to school. When Chloe's teacher gives a lesson about how even small acts of kindness can change the world, Chloe is stung by the lost opportunity for friendship, and thinks about how much better it could have been if she'd shown a little kindness toward Maya.
Find in the DeKalb Library System | Shop Amazon Smile
Stella by Starlight by Sharon M. Draper
Third grade through eighth grade selection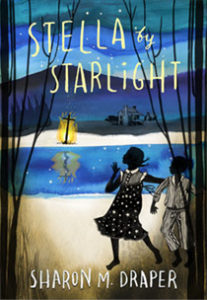 When the Ku Klux Klan's unwelcome reappearance rattles Stella's segregated southern town, bravery battles prejudice in this New York Times bestselling Depression-era "novel that soars" (The New York Times Book Review) that School Library Journal called "storytelling at its finest" in a starred review.
Stella lives in the segregated South—in Bumblebee, North Carolina, to be exact about it. Some stores she can go into. Some stores she can't. Some folks are right pleasant. Others are a lot less so. To Stella, it sort of evens out, and heck, the Klan hasn't bothered them for years. But one late night, later than she should ever be up, much less wandering around outside, Stella and her little brother see something they're never supposed to see, something that is the first flicker of change to come, unwelcome change by any stretch of the imagination. As Stella's community—her world—is upended, she decides to fight fire with fire. And she learns that ashes don't necessarily signify an end.