On Monday, August 21, a solar eclipse will be visible everywhere in North America for the first time since 1979. While Decatur is not on the path of totality, students will still get to experience an amazing natural phenomena.
Where and When to Find Your Student
Students will be on and off the field throughout the eclipse based on stamina, curriculum, and safety considerations. If you are a parent joining your student on Monday,
click here for times and locations
. Due to the high number of guests, 
parents will not be invited into classrooms
, but are welcome to join the viewing party in the Cafeteria when students are not on the field.
[wpcdt-countdown id="3073″]
---
[super_button icon="fa-sun-o" label="Volunteer" tagline="Event help is needed August 21st" color="#f1a502″ link="http://www.signupgenius.com/go/30e084faea722a6fa7-eclipse" link_opens="_blank"]
Students and staff will be provided eclipse viewing glasses, compliments of TMS PTO.
NEVER look at a solar eclipse without proper eye protection!
Guest Glasses are Sold Out
If you are a parent who has pre-ordered eclipse glasses, they can picked up on Monday, August 21st prior to the event.
No additional glasses will be available for parents to purchase.
Here is what we will see in Avondale Estates: a near-total eclipse of the sun!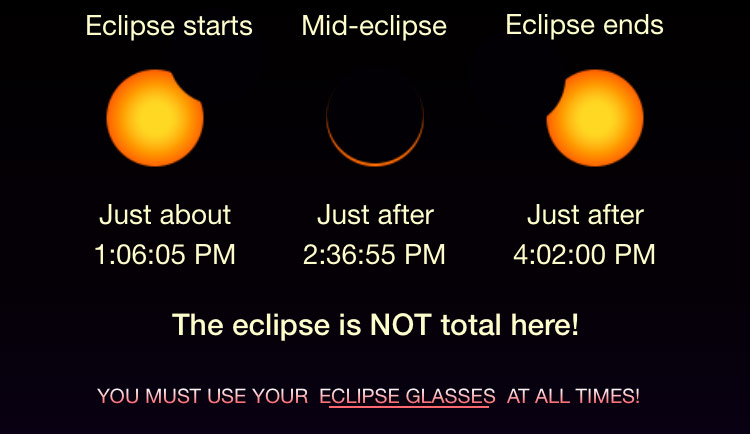 It is critical that students wear their glasses during the entire eclipse viewing. To ensure parents and students understand the importance of this policy, all parents are asked to sign and return an eclipse viewing permission form.
[super_button icon="fa-sun-o" label="Volunteer" tagline="Event help is needed August 21st" color="#f1a502″ link="http://www.signupgenius.com/go/30e084faea722a6fa7-eclipse" link_opens="_blank"]
Other Resources: