By Emily Halevy
Nearly everyone who lives in the South, and most certainly everyone in the Decatur/Avondale area knows that the Waffle House started right on College Avenue. But did you know that TMS wouldn't be what it is today without the help of former President and COO of the Waffle House, Bert Thornton?
After hearing so much about Bert and the hand he had in creating our school, I decided to find out from his perspective what it means to be a mentor and why, as a grandparent, being involved in education is so important to him.
Most of our "heroes" and founders are parents, but you are a grandparent. Tell me about your family and why, as a grandparent, The Museum School is so important to you and how you got involved in its formation.
I appreciate the consideration of TMS hero status but I can assure you the real heroes at TMS are folks like Sasha Webb, Josh Andrews, Amy Crownover, Katherine Kelbaugh and several others. While I was not a parent at the time, my daughter Aspen Kron was the mother of three soon to be elementary school aged boys and she became very interested in The Museum School during its formation. She asked if I would sit down with Sasha Webb, the chairperson at that time and give her some business and political advice. I was happy to do that over lunch and the next thing I knew, I was on the board.
Were you involved with education support prior to The Museum School? If so, how?
I have always felt that America was dramatically behind the power curve in terms of education, particularly beginning education. Because of this, I was very happy to help TMS in any way that I could since I considered it to be a premier solution to our failing educational programs. I also have a long Alumni Association history with Georgia Tech and a board role with the Georgia Tech Foundation where I went to school, as did each of my three daughters. So, you might say, I am working both ends of the problem- elementary and middle school on the front end and college and graduate school on the other.
You wrote a book called "Find an Old Gorilla" about seeking the advice from a mentor. And from what I've heard from some of the other founders, you have been a coach to many of them as the school was forming. Where did that philosophy come from? Who was your mentor?
Yes, I did write a book called Find An Old Gorilla. The title is crazy but the premise of the book is that if you discover one day that you have to go through a jungle, it would make sense to find an old gorilla and take him or her along. Old gorillas know where all the good paths are… and also the quicksand. I was that mentor for many people at Waffle House, where I worked for four decades, at Georgia Tech, at The Museum School and with another business and social affiliations. I wrote the book because one day I realized there were more people who had questions I felt I could help answer than I could ever sit down across the table with and engage in that helpful conversation.
As someone who had more experience under their belt than many of the parents, at the time the school was forming, what was your perception of the other founders and how it was coming together?
I was inspired by the passion and the heartfelt efforts of the TMS founders. To the person, they were smart, very dedicated and they approached the mission with a terrific blend of skill and common sense.
This is the big reason TMS was able to hit the ground running, stay out of trouble financially and excel operationally.
There were, no doubt, very stressful moments during those years. Do you remember any advice you gave to the founders when things got tense?
In the early years, things stayed tense. Everything was new and there were a jillion urgent decisions to be made operationally, financially, developmentally and politically. There was no precedent to rely on. Every decision was groundbreaking. But, I don't remember giving advice. We were all sort of a think tank, working together and leaning on each other's skill sets to push through problems and make things happen. We made a great team.
What would you consider your biggest accomplishment or proudest moment during this time? Additionally, what would you consider the founders biggest accomplishment during this time?
You simply can't list the founder's accomplishments. You don't have enough ink. I would summarize it by saying that, against all odds and the powerful political will of an adversarial environment, the founders were able to establish one of the most successful educational institutions in the state. This involved the formation of the TMS concept, the selection of the right leadership (thank God for Katherine Kelbaugh), Raising the money to get started, raising the money to move to the current location and solving a myriad challenges in getting the facilities built and renovated (thank God for Josh Andrews). For my part, I guess I was sort of a problem solver. When we hit a blockade, Sasha and Katherine sent me in to try to break it up so we could move the agenda along and get things done.
You simply can't list the founder's accomplishments. You don't have enough ink.
The other aspect I've heard you brought to The Museum School were your relationships and making introductions throughout the philanthropic community. What advice would you give to those of us who are just now taking the helm, who many not have those kinds of relationships?
Everyone knows somebody who knows somebody. Perseverance is the key. We just kept knocking on doors until someone answered. One of the points I make in the book is that it is a leader's responsibility, not only to lead but also to broker relationships in order to get things accomplished. I think this was my main contribution to The Museum School. We were able to introduce our leadership team to people and organizations that could, and were more than willing to help the TMS cause.
What advice would you give to new parents who may not know anyone else at the school or how to get involved and contribute?
Show up. TMS is a blessing in elementary-middle school education. All you have to do is walk in and say, "Hi, I'm here to help. What can I do?" Go to a board meeting. Get involved through your child's teacher. But, this is one of those things you can't just "phone in". You have to show up.
How do you think the other founders and board members could use your mentor/mentee philosophy? Should we actively be seeking mentees within our community?
Everyone either is or can be a mentor. In the book, I talk about the critical importance of the mentor-mentee relationship; how to establish it and how to maximize it. Successful people have a responsibility to have good "coattails". They should stand ready to help and advise deserving people when asked. The good ones do that. Rising high achievers have a responsibility to seek out demonstrated performance and ask for advice and counsel. The smart ones do that.
What is your vision for the future of TMS?
Absolutely unlimited under Katherine Kelbaugh's innovative leadership and the Board's excellent stewardship.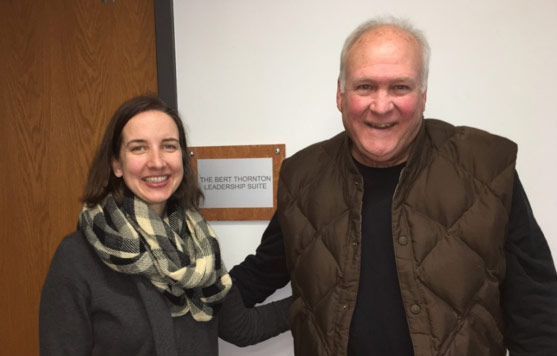 We honor grandparents every year by inviting them into our school to meet our teachers and learn more about our curriculum model. This year, Grandparents' Day is October 27th. More information can be found on our website.
You can carry on the tradition of giving at The Museum School, and help build the future for our Explorers. Click here to contribute to the 2017-2018 Curator Circle.